Free Software!

Most of these programs were originally developed to meet the needs of specific students and classes and were never meant to be commercial applications. Certainly for my programs (Jon Adams), many short cuts were taken in order to reduce development time. Still, we have found all of these programs to be very useful and we are making them available in the hopes that others will as well.
These applications are being made available "as is" without warranty of any kind. We do not guarantee that any of these programs will meet your requirements or that the operation of these programs will be uninterrupted or error free.
These programs may be downloaded and freely distributed but may not be sold.
All rights reserved
All of these programs are for Macintosh computers*
*(Q: Why Macintosh only and will they be made available for Windows? A: The school that these programs were created for uses Macs so Windows versions were never created. Unfortunately, I've just about run out of development time for free programs so there probably won't be any Windows versions in the foreseeable future. Sorry!)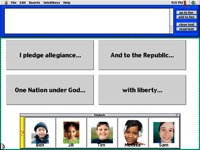 Morning Meeting:
This is a full-featured program that allows groups of students with widely diverse communication skills to participate together in classroom discussions. The program includes a complete authoring environment for making on-screen boards and academic/social scripts.

morningmeeting.sit
(Macintosh,3,408k)





Super Script:
(formally Simple Script): At it's most basic, this program allows non-speaking students to use switches to trigger lines in social scripts, skits, songs, speeches, and theatrical productions. However it also has a host of features including captioning and teleprompting (both text and graphic). It even allows off-stage performers to use switches to provide sound effects and to control stage lighting. (new version 1.1d)

superscript.sit
(Macintosh,2,034k)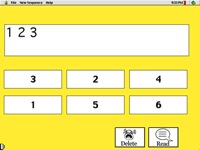 Sequence Builder
:
This is a VERY simple program to give students practice building sequences/sentences using switches, Intellikeys keyboard or other adaptive devices.

sequencebuilder.sit
(Macintosh,692k)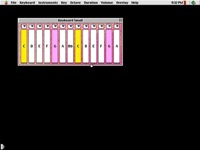 On-Screen Music:
This program allows students to use a mouse (or other pointing device) to play a "virtual" metallophone, xylophone, glockenspiel, full keyboard or an electric bass. This would probably work best for a student with muscular dystrophy or some other neuromuscular disease however it can also be used as a simple way to turn a switch into a musical instrument.

OS 7-9:
onscreenmusic9.sit
(Macintosh,725k)
OS X:
onscreenmusicx.sit
(Macintosh,621k)






Simple Access Coloring Book:
This program contains a large number of easy, fun and "age-neutral" coloring activities that can be completed with a switch, Intellikeys or other adaptive device. Pages can be added from other sources (scanned images, the web, etc.) and finished pictures can be printed or exported to other programs.

sacoloringbook.sea.hqx
(Macintosh,1570k)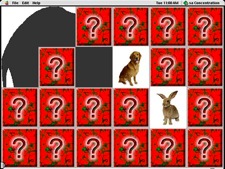 Simple Access Concentration:
This is an accessible version of the memory game "Concentration". It comes with six pre-made boards that range in size from "Simple" (6 items) to "Very Difficult" (64 items). Users can create their own boards that require players to match text, graphics and/or sounds.
saconcentration.sea.hqx
(Macintosh,3365k)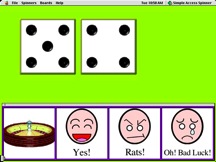 Simple Access Game Spinner:
This program provides accessible "spinners" (randomizers) to many popular games including Wheel of Fortune, Chutes and Ladders, BINGO and Candy Land. Students can actively participate in these games by using a switch to activate the spinner. You may also create your own custom spinners for games not already included. It has augmentative communication features that allow you to create simple communication boards for specific games.

sagamespinner.sea.hqx
(Macintosh,1899k)





CDJukeBox v2.1:
Use a switch or an Intellikeys keyboard to play audio CDs on your computers CD ROM. Choose from five different play modes: Direct, Latch, Timed, Step and Scanning. Go to your local record store for an unlimited supply of inexpensive, fun and age-appropriate discs.
Please Note: This program will NOT run under OS X
.

cdjukebox.sea.hqx
(Macintosh,866k)


Single Switch Bingo:
Students use a single switch to mark a bingo card and to call numbers ("B3", "I17", etc.). This program will also print out blank cards for players who do not require adapted access. This is a fun recreational activity for individuals or groups of students. It helps develop basic scanning skills and both number and letter recognition.

Bingo.sea.hqx
(Macintosh, 1043k)






Scan 'n Read:
Use this program to create your own accessible books with text, graphics and sounds. Students use a switch or Intellikeys to turn pages and have text read to them. This is a great program by Charles Silverman.


ScanRead1.06.sea.hqx
(Macintosh,1042k)





KidBook
is a multimedia publishing system which enables almost anyone- teachers, parents, specialists and other support personnel- to create electronic talking books.


KidBook supplements the written word with flexible, educationally sound supports including moving highlighting and spoken voice. Because it uses a "page" structure and allows easy import of graphics, KidBook is the perfect program for younger students. Hearing and seeing words together is an excellent scaffold for all kids who are learning to read and is particularly effective for students who have learning disabilities, attention problems and for whom English is a second language. Further, KidBook provides single-switch scanning support for students with mobility challenges and offers large text settings for those with visual impairments. KidBook is by Charles Silverman. It was originally funded and developed at CAST. Kudos to CAST for reverting the program to its original creator.

kidbook.sea.hqx
(Macintosh, 3306k)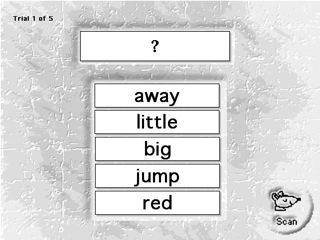 Word Search:
A scanning drill program to develop sight word recognition. Teachers can create customized word lists and the program also has automatic record keeping options.


OS 7-9:
wordsearch.sit
(Macintosh , 992k)
OS X:
wordsearchx.app.sitx
, (Macintosh, 1100k)